Tissot watches have remained true to their slogan, "Innovators by Tradition," from the company's inception. They have repeatedly demonstrated their ability to make significant contributions to technological growth and creativity. Although they are attempting to solidify their position in the field, their primary goal is to build on their previous achievements. While Tissot's price point may make them appear affordable, their high craftsmanship and extensive choice of options assure that they will stay luxurious throughout the watch buyer's life span. The level of craftsmanship required to create timepieces that can endure impacts and scratches while participating in sports is exceptional.
Tissot continues to be at the top of its game, offering a varied range of timepieces for men and women. This brand features everything you could want in a timepiece, from Tissot automatic timepieces to rugged sports watches and everything in between. This Swiss manufacturer offers reasonably priced timepieces that are both dependable and fashionable at the same time. From classic and sporty men's timepieces to everyday clocks that are popular with women, the brand continues to wow customers with its elegant and durable designs.
The Ascendance of the Tissot Watch Company
Finally, the Tissot family was ready to establish a presence in the Russian market as well.
To accomplish this, the company embarked on a tour to Russia in 1858. After many trials and tribulations, his efforts were finally rewarded when he was able to introduce their Savonnette pocket watches to the Russian Empire. Since 1983, the company has been a member of the Swatch Group, one of the world's leading watchmakers and distributors and headquartered in Switzerland.
The heritage of being a Tissot in Switzerland is still alive and well today, thanks to the fact that the brand's headquarters have been in Le Locle, Switzerland, since the company's inception. With a rich and broad history as a timing partner for major sports organizations, including MotoGP, Ice Hockey, Cycling, the International Basketball Federation (FIBA), and the World Championships of Fencing, the brand has established a strong and enduring presence in the sports world. The company has finally gained the pleasure and distinction of serving as the official timekeeper, and as such, he is tasked with the job and responsibility of keeping track of all of these sporting events.
Why Should You Purchase a Tissot Timepiece?
Tissot creates timepieces that are infused with cutting-edge technology in the field of horology. The brand, on the other hand, does not lose sight of its historic heritage. At the same time, it gives cutting-edge solutions through designs that are in line with 21st-century requirements.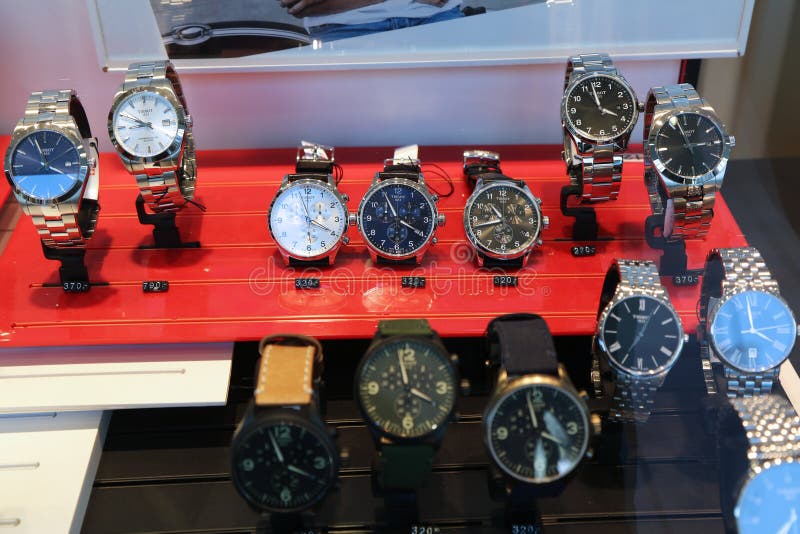 Tissot watches come in a variety of styles, and if you're having trouble finding one that matches your personality, here are a few reasons why the Swiss brand should be your new go-to for dependable timepieces. Tissot, for example, incorporates cutting-edge technology into classic designs, as seen in the Tissot Touch Collection. Tissot watches, as a mid-range watch brand, can maintain their affordability due to their cost-effective manufacturing. Tissot automatic watches are known for their accuracy as well as their dependability. Some Tissot timepieces are housed in a titanium case that is designed to endure extreme pressure. Tissot has stayed true to its roots by continuing to manufacture Tissot T-Pocket watches, which are small, lightweight watches.
Tissot Vintage Watches Are Classic
Tissot antique watches have had a good run over the last several decades. TISSOT continues to revolutionize the market by reintroducing classic models and collections to the marketplace. Perhaps the brand's commitment to preserving its past has contributed to the enormous growth of the vintage market for Tissot watches over the years. There are several factors to consider when purchasing a Tissot vintage timepiece, which also applies to antique timepieces from other companies.
First and foremost, examine the overall quality of the timepieces. Not all old timepieces must be worn out and deteriorated to be considered authentic. Some of them continue to function well even after decades of storage. The condition of an antique watch is also quite important in determining its worth. Another distinguishing characteristic of a fine vintage timepiece is its scarcity. If you double-check all of these details, you can be assured that you are making a wise investment for the future.
The Tissot T-Pocket: A Gentleman's Timepiece
Tissot, a pioneer in the watch industry, continues to demonstrate that pocket timepieces are not merely a thing of the past. As a result, the company has continued to produce high-quality pocket watches to this day. The Tissot T-Pocket series consists of approximately ten different models, each of which is available in several various variations. The majority of the pieces in the collection have manual or hand-wound movements. The movement, an ETA 6498, is a classic produced by Unitas around the 1950s period. However, they are also available with quartz movements, making them cheaper than mechanical movements.
Tissot continues to innovate to such an extent that even its latest collections include pocket watch adaptations of its previous designs. For example, the Tissot T- Touch offers a pocket watch that may be purchased separately. This clock is ideal for keeping track of time when participating in sports. Tissot's portfolio is filled with more traditional styles, but a contemporary twist shouldn't be overlooked. When it comes to T-Pocket watches, the price is determined by the movement, which can be either hand-wound or quartz-driven. The price of a brand new T-Pocket Bridgeport pocket watch with a skeletonized design starts at USD 1,250 and goes up from there. This is one of the most expensive models currently available on the market today. The good news is that the T-Pocket line, which includes quartz movements, is available at an inexpensive price as well. When it comes to watches, this is particularly true of the Tissot Lepine watch, which offers a straightforward pocket watch at around USD 260 for a new model. If you buy pre-owned timepieces, the collection may be a few dollars less expensive.
This Tissot T-Lady: A Must-Have for Any Lady's Collection
Speaking of women's timepieces, if you're seeking the definitive Tissot ladies timepiece, go no further than the Tissot T-Lady collection for the perfect timepiece. The timepieces in this series are available in a variety of designs that are appropriate for a variety of occasions. A casual environment may suit some designs better than a formal setting, while others are grand enough to be considered formal wear. The T-Lady line is characterized by its emphasis on feminine style and grace, as evidenced by a large number of models available.
T-Lady watches are available in both round and square frames, so you can choose the perfect fit for your style. As would be expected, it is available at a variety of pricing points to suit a variety of budgets. With USD 210, you can purchase a brand new watch that operates on a quartz mechanism. If you do decide to splurge on a new Lady Heart Powermatic 80, you can expect to pay approximately USD 880 for the privilege. In addition to its open heart design, this automatic watch boasts a power reserve of an incredible 80 hours.
Takeaway
The Swiss watchmaker Tissot, while considered a mid-range brand, is highly regarded for the high-quality timepieces that it produces. The brand's collections continue to expand, attracting a new generation of collectors and aficionados to the brand's offerings. It also demonstrates that it is a formidable participant in the industry, deserving of the high regard in the company of other major Swiss brands. The appropriate Tissot watch is available for everyone, whether you're a sports fanatic, seeking a trustworthy everyday timepiece, or looking for an attractive dress timepiece.