All of us, admittedly or not, have celebrities or personalities that we look up to as idols. We turn to them whenever we find ourselves running dry on the next outfit we will put on. We also trust them when making big decisions of switching from one brand to another, especially when purchasing something as expensive as a luxury watch. Most luxury watches are good enough and will give us the right perks you get by having these kinds of things. However, with all the brands and models, it can still be overwhelming! Today, we will tell you a few things about celebrities and personalities and their chosen timepiece! Stay tuned, and see if we mention your idol!
Daniel Craig as 007
The world often stops on its tracks to take a moment and appreciate James Bond's choices of watches. Probably one of the most iconic male tropes or archetypes, the enigmatic spy also sported an Omega Seamaster. When Daniel Craig gave life to the mysterious spy, he wore an Omega Seamaster in Casino Royale (2006). This film was the first title Daniel Craig played James Bond, so he must find this memorable!
In the film, he wore two watches: a Seamaster Planet Ocean and a Seamaster watch with a co-axial escapement. He wore an Omega Seamaster Planet Ocean watch again in the 2008 film Quantum of Solace.
James Corden in Carpool Karaoke
If you are a fan of comedy and TV shows that are just light, you know James Corden and his segment, Carpool Karaoke, from the TV show The Late Night Show with James Corden. In Carpool Karaoke, James Corden invites celebrities, musicians, and personalities to sing along as he drives a car. In this segment, you might see James Corden wearing a Royal Oak Selfwinding watch from Audemars Piguet. Since then, he made the elegant sports watch a thing.
Justin Timberlake in Can't Stop the Feeling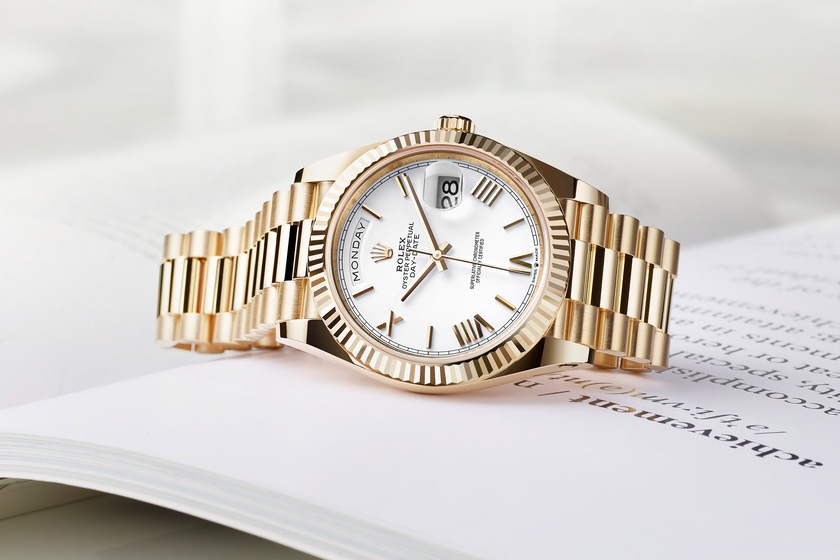 American pop icon Justin Timberlake sports a Rolex Oyster Perpetual Day-Date in yellow gold. This elegant Rolex watch perfectly suits the multi-award-winning musician, producer, and actor. You can see him wearing his Rolex watch most of the time, even in his music video of Can't Stop the Feeling. The Rolex Oyster Perpetual Day-Date is a usual favorite among watch connoisseurs. This watch is commonly called the President's Watch.
Ellen DeGeneres on The Ellen Show
The public knows this American host and comedian to be a fan of luxury watches. Given Ellen DeGeneres' accolades, they deserve and afford such luxury watches. By 2017, they became the top-paid TV host and one of the highest-paid celebrities in the world. The public has seen Ellen DeGeneres wearing Rolex watches such as vintage Daytona watches, Submariners, Explorer IIs, Yachtmasters, and GMT Master IIs. They also own Omega watches and Audemars Piguet watches. Aside from these, what took the public's breath is their Patek Philippe Nautilus watch. Patek Philippe watches are known for their price and their exclusivity.
Kate Middleton and Cartier Watches
If you want something princess-material, then you should take notes from Kate Middleton. The public usually sees Kate Middleton wear a Cartier Ballon Bleu Watch sized 33m in stainless steel. While Cartier's famous watches are usually Tank Watches, the Duchess of Cambridge begs to differ and chose a just as elegant watch. The Cartier Ballon Bleu still does not disappoint and shows off a simple yet sophisticated design.
Rami Malek at the Emmy Awards
Who would not fall in love with the Mr. Robot actor's charming smile and sexy stares? This American actor of Egyptian descent is one of the celebrities whom the public loves and adores because of his remarkable performances as a computer hacker in Mr. Robot and the iconic Queen lead singer, Freddie Mercury in Bohemian Rhapsody (2018). When he first received his Emmy Awards, he wore an elegant Montblanc Heritage Chronometrie Automatic in stainless steel watch.
Kylie Jenner, the fashion and entertainment icon
If you are into entertainment and social media, you will not miss knowing the socialite, businesswoman, and entrepreneur, Kylie Jenner. She easily became known as a watch lover, too! The public has seen her wearing a 35mm Hublot watch, particularly the Classic Fusion King Gold Pave. 
Orlando Bloom at the Costume Institute Gala
Pirates of the Caribbean actor and now a father to Baby Daisy with singer Katy Perry, Orlando Bloom also has his share of contributing to the must-haves when it comes to celebrities' choice of watches. He strapped on the AC 1 by Bremont watch to the Costume Institute Gala. He paired this with a Prada tuxedo which glamorously matched with his timepiece.
The right watch for you
Here are just some of the celebrities and the watches they chose. Without a doubt, they are the epitome of elegance and glam! Even you can be as dashing as these celebrities with your choice of a watch!